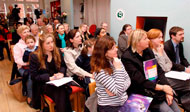 This section is meant to facilitate the sharing of information among partners as far as the dissemination events carried out are concerned.

A description of the event, the number of people participating and the evaluation of the event are available for each dissemination event.
Back to the Dissemination List
click here for the printable version

Partners' Institution:
RENASUP

Name of the person involved in the event:
Jean-Marc Petit

Date of the event:
05 October 2017

Type of Dissemination event:
Gathering of students and teachers for a sporting event

Target group:
Students
Teachers

Number of people reached by event:
700

Held in:
Bordeaux (France)

Description of Dissemination Event:
Another "Défi RenaSup" sporting event was organised in Bordeaux (Aquitaine). It gathered 700 students from private short higher education (belonging to RenaSup), from the French region of Aquitaine. The students had a musical warm-up, and then had to go through a challenging obstacle course. At the starting point, several stands were set up and the students and the teachers could walk around and have a look. Jean-Marc Petit set up an "I Have Rights" stand, with a roll-up and the flyers from the project. Several teachers were interested and were asking questions during the afternoon. At the end, Jean-Marc Petit made a speech and talked about the project.

Outcomes and Results:
This event was very successful as well, and many people (mainly teachers) showed interest in the project and asked a lot of questions.

Supporting Documents: