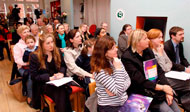 This section is meant to facilitate the sharing of information among partners as far as the dissemination events carried out are concerned.

A description of the event, the number of people participating and the evaluation of the event are available for each dissemination event.
Back to the Dissemination List
click here for the printable version

Partners' Institution:
Aristotle University

Name of the person involved in the event:
Michael Kavouklis

Date of the event:
09 November 2017 - 09 November 2017

Type of Dissemination event:
Conference or Fair

Target group:
Students
Teachers

Number of people reached by event:
150

Held in:
Rhodes (Greece)

Description of Dissemination Event:
A brief presentation of the IHR project was introduced during the regional organizations' simulation conference "RhodesMRC - Rhodes Model Regional Co-operation High-School Edition" that took place in Rhodes. High school students from almost all public schools of Rhodes participated as delegates in the Democracy & Human Rights, as well as in the Education Committees of the Council of Europe.

Outcomes and Results:
The teachers of the participating high school students expressed their concerns on the issues and requested to be updated about the publication.

Supporting Documents: