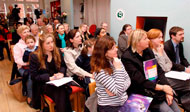 This section is meant to facilitate the sharing of information among partners as far as the dissemination events carried out are concerned.

A description of the event, the number of people participating and the evaluation of the event are available for each dissemination event.
Back to the Dissemination List
click here for the printable version

Partners' Institution:
Aristotle University

Name of the person involved in the event:
Eleni Hodolidou

Date of the event:
27 November 2017 - 27 November 2017

Type of Dissemination event:
Radio talk- show

Target group:
General Public

Number of people reached by event:
Unknown

Held in:
Thessaloniki (Greece)

Description of Dissemination Event:
Eleni Hodolidou was invited to a live radio talk-show at the "Amagi Radio station" by the radio producer Sofia Christoforidou, in order to present the IHR project and discuss about the next steps and the progress that has been made so far. Amagi Radio has its headquarters in Athens, but it also has a studio in Thessaloniki, where it broadcasts on Mondays and Tuesdays. All broadcasts are live. Amagis has an emphasis on nationalism, ambiguity, racism, sexism and political violence. We mean freedom. [ www.amagi.gr]

Outcomes and Results:
Public awareness and dissemination about the project.

Supporting Documents: