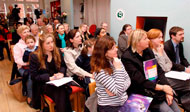 This section is meant to facilitate the sharing of information among partners as far as the dissemination events carried out are concerned.

A description of the event, the number of people participating and the evaluation of the event are available for each dissemination event.
Back to the Dissemination List
click here for the printable version

Partners' Institution:
Klaipėda University

Name of the person involved in the event:
Giedre Straksiene, Ilona Klaniene

Date of the event:
03 July 2018 - 03 July 2018

Type of Dissemination event:
National Meeting

Target group:
Schools
Teachers

Number of people reached by event:
10

Held in:
Klaipeda (Lithuania)

Description of Dissemination Event:
Researchers of the KU (Ilona Klaniene and Giedre Straksiene) after the IHR project meeting in Paris invited the representatives of the schools involved in the IHR project to share the project results. Majority questions were focused on the upcoming new publication also the researchers have asked to fill the questionaires and testimonials.

Outcomes and Results:
During the meeting has been distributed the questionnaires for teachers and the instruction how to fill them also presented.

Supporting Documents: