Associated Partners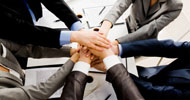 As a result of the exploitation activity a number of associated partners officially joined the project in order to contribute to the improvement of the project impact on their target groups and to ensure the project sustainability by continuing using the project deliverables in the next years.

The associate partners of the I Have Rights project are organizations interested in promoting the awareness of human rights at school. All associated partners share the project objectives and are willing to contribute to their achievement.

Institutions and organisations interested in becoming associated partners of the I Have Rights project can contact the national coordinators of the project.
Back to the Associated Partners
NAME OF THE ORGANISATION
Symbiosis
TYPE OF INSTITUTION
civil non-profit company
NAME OF CONTACT PERSON
Ljubisa Vrencen
BRIEF DESCRIPTION OF THE ORGANISATION
Drawing upon collaborations in education, rights and non-discrimination in the Balkans and Greece since 2003, Symbiosis was founded in May 2011 in Thessaloniki. Aiming to bridge theory, practice and policy, Symbiosis focuses on information and education, freedom of expression, public debate and active civic participation, so that people and communities voice their needs and ideas; while it supports intercultural and interfaith dialogue and political education to strengthen social cohesion, understanding between different cultures and acceptance of diversity.

In the current climate of crisis, reasserting the importance of fundamental rights for all, and developing vibrant civic institutions has become a pressing priority. Symbiosis works towards establishing partnerships among civil society organisations, collectivities and networks focusing on equality, participatory democracy and social justice, and on combatting discrimination based on ethnic and religious affiliation, gender and social conditions. Symbiosis advocates for the political, social, and economic participation of migrants and vulnerable communities at the local, national and European levels, and for the inclusion of marginalised groups and the young in the public sphere.
HOW THE ORGANISATION WILL CONTRIBUTE TO THE DISSEMINATION AND EXPLOITATION OF THE PROJECT RESULTS
Through its large network of partners and the long experience in dealing with human rights promotion issues.