Associated Partners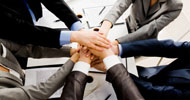 As a result of the exploitation activity a number of associated partners officially joined the project in order to contribute to the improvement of the project impact on their target groups and to ensure the project sustainability by continuing using the project deliverables in the next years.

The associate partners of the I Have Rights project are organizations interested in promoting the awareness of human rights at school. All associated partners share the project objectives and are willing to contribute to their achievement.

Institutions and organisations interested in becoming associated partners of the I Have Rights project can contact the national coordinators of the project.
Back to the Associated Partners
NAME OF THE ORGANISATION
Progetto Aisha
TYPE OF INSTITUTION
Non - Profit Association
ADDRESS
Via Palmanova 59, 20132, Milan
NAME OF CONTACT PERSON
Libera Chiara D'Acunto
BRIEF DESCRIPTION OF THE ORGANISATION
Progetto Aisha was born within the Islamic community of Milan in March 2016 and it constituted as an association one year later, aiming at combating violence and discrimination against women, with a particular focus on Muslim women, through assistance, training, awareness-raising and prevention activities.
HOW THE ORGANISATION WILL CONTRIBUTE TO THE DISSEMINATION AND EXPLOITATION OF THE PROJECT RESULTS
Progetto Aisha will contribute to the dissemination and exploitation of the project's results within its activities and through all its communication channels (website, social channels).