Associated Partners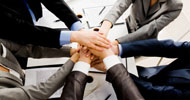 As a result of the exploitation activity a number of associated partners officially joined the project in order to contribute to the improvement of the project impact on their target groups and to ensure the project sustainability by continuing using the project deliverables in the next years.

The associate partners of the I Have Rights project are organizations interested in promoting the awareness of human rights at school. All associated partners share the project objectives and are willing to contribute to their achievement.

Institutions and organisations interested in becoming associated partners of the I Have Rights project can contact the national coordinators of the project.
Back to the Associated Partners
NAME OF THE ORGANISATION
AEDE-EL
TYPE OF INSTITUTION
Non-profit
ADDRESS
Rue des Vennes 84 - 4020 Liège
NAME OF CONTACT PERSON
Roger Lesage
BRIEF DESCRIPTION OF THE ORGANISATION
AEDE-EL (Association européenne des enseignants – enseignement catholique) aims to run an action in the education area through various initiatives, such as study and reflection groups, the use of all communication and diffusion channels, the organisation of meetings and contacts, the promotion of language practice.
To reach these objectives, priority is given to actions in partnership within the framework of programmes of the European Commission, and a European dimension at all levels and steps of education and training.
It provides:
- a network of over 15 000 teachers, headteachers, inspectors and educators in 28 national sections, from kindergarten to university
- several publications, such as "Context", European magazine of education, AEDE News and "Documents pour l'enseignement"
- hundreds of education and reflection texts
- a website: www.aede.eu
HOW THE ORGANISATION WILL CONTRIBUTE TO THE DISSEMINATION AND EXPLOITATION OF THE PROJECT RESULTS
AEDE-EL will disseminate the project results to its large network of teachers in Belgium and abroad, using its website and its bimonthly report.