Associated Partners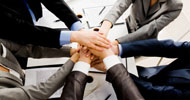 As a result of the exploitation activity a number of associated partners officially joined the project in order to contribute to the improvement of the project impact on their target groups and to ensure the project sustainability by continuing using the project deliverables in the next years.

The associate partners of the I Have Rights project are organizations interested in promoting the awareness of human rights at school. All associated partners share the project objectives and are willing to contribute to their achievement.

Institutions and organisations interested in becoming associated partners of the I Have Rights project can contact the national coordinators of the project.
Back to the Associated Partners
NAME OF THE ORGANISATION
VšĮ Klaipeda "Universa Via" International School
TYPE OF INSTITUTION
Public body
ADDRESS
Baltikalnis str. 11, LT-91252 Klaipeda
NAME OF CONTACT PERSON
Grazina Smitiene
BRIEF DESCRIPTION OF THE ORGANISATION
International School 'Universa Via' is an only educational institution at Klaipėda, which can offer great educational conditions for Lithuanian and foreign children, who had just arrived to the country. School proceeds bi-lingual educational programme, which includes English-Lithuanian and Lithuanian- English educational programme. At the present moment, there are 98 students from 2.5 to 11 years old from various countries: Norway, Germany, Great Britain etc.
http://privatusdarzelis.lt/en/about-school/
HOW THE ORGANISATION WILL CONTRIBUTE TO THE DISSEMINATION AND EXPLOITATION OF THE PROJECT RESULTS
International School "Universa Via"will contribute to the dissemination and exploitation of the project results by publicizing the information in the website, social network website and various events for parents and educators.