Associated Partners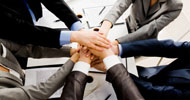 As a result of the exploitation activity a number of associated partners officially joined the project in order to contribute to the improvement of the project impact on their target groups and to ensure the project sustainability by continuing using the project deliverables in the next years.

The associate partners of the I Have Rights project are organizations interested in promoting the awareness of human rights at school. All associated partners share the project objectives and are willing to contribute to their achievement.

Institutions and organisations interested in becoming associated partners of the I Have Rights project can contact the national coordinators of the project.
Back to the Associated Partners
NAME OF THE ORGANISATION
Associazione Culturale Ulisse
TYPE OF INSTITUTION
Non- profit cultural association
NAME OF CONTACT PERSON
Antonella FILIPPONE
BRIEF DESCRIPTION OF THE ORGANISATION
Associazione Culturale Ulisse (ACU) is a cultural association founded in Siena in 2003 to promote and spread Italian language and culture, promote and carry out volunteer activities in non profit organizations of Siena territory, encourage the study of foreign languages, organize cultural and artistic initiatives such as seminars, workshops, expositions. Member of the International Center for Intercultural Exchange, since its foundation ACU has been collaborating with Siena Italian Studies (SIS) – a study abroad programme for foreign undergraduate students- to organize service activities in affiliated non profit and public organizations of Siena  (schools,  hospital, ambulances, immigration offices etc.) as integral part of the students' programme. Together with SIS, ACU is member of the International Partnership for Service-Learning and Leadership (IPSL), an organization that sponsors S-L programmes in many locations worldwide, both at the undergraduate and graduate university level.  While based in the U.S., IPSL focuses on providing students from many nations with opportunities through S-L for immersion in other cultures and languages. Moreover, ACU cooperates with SIS to develop and experiment new approaches and methodologies for teaching Italian as second language. Additionally, ACU carries out projects for the learning of English in different primary schools of Siena.
HOW THE ORGANISATION WILL CONTRIBUTE TO THE DISSEMINATION AND EXPLOITATION OF THE PROJECT RESULTS
Associazione Culturale Ulisse along with Siena Italian Studies organizes an annual conference "Intercultural Horizons" which hosts approximately 70-120 participants who are primarily educators and scholars involved in international or intercultural higher education. The conference will be an opportunity for the project to be broadly disseminated to an international audience. Furthermore, the project will be promoted through the international networks of international educators and for the development of intercultural competence, especially through the pedagogy of service-learning, the Association is member of.