Associated Partners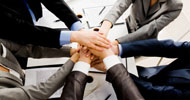 As a result of the exploitation activity a number of associated partners officially joined the project in order to contribute to the improvement of the project impact on their target groups and to ensure the project sustainability by continuing using the project deliverables in the next years.

The associate partners of the I Have Rights project are organizations interested in promoting the awareness of human rights at school. All associated partners share the project objectives and are willing to contribute to their achievement.

Institutions and organisations interested in becoming associated partners of the I Have Rights project can contact the national coordinators of the project.
Back to the Associated Partners
NAME OF THE ORGANISATION
SIEP Liège (Service d'information sur les Etudes et les Professions)
TYPE OF INSTITUTION
Non-profit
ADDRESS
Rue Saint-Gilles, 26 4000 Liège
NAME OF CONTACT PERSON
Catherine Van Gyseghem
BRIEF DESCRIPTION OF THE ORGANISATION
SIEP counsellors inform about studies, training and career (individual information, documentation, collective information).
HOW THE ORGANISATION WILL CONTRIBUTE TO THE DISSEMINATION AND EXPLOITATION OF THE PROJECT RESULTS
Dissemination will be done through the information centre, the Facebook page and partner contacts (schools, youth organisations…).