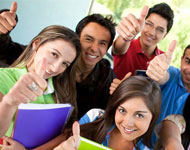 60 case studies have been identified. The case studies focus on intercultural issues, integration, non-discrimination values and human rights at school.
Letter Marathon
TEACHER INFORMATION

Name of the teacher
Filomena Pedroso

Email:

Country:
Portugal

Subject taught:
Portuguese

Years of experience:
25
SCHOOL INFORMATION

Name of the School:
Escola Secundária José Falcão

School Typology:
Upper Secondary School

Country:
Portugal

City:
Coimbra

Web site:
CASE STUDY

Background and Context:
Escola Secundária José Falcão is in a central area of our town, Coimbra, and it has a long history. We were the first high school in Coimbra and one of the first in the country. Geographically, Coimbra is in the center of Portugal and it has long traditions in the learning field: Coimbra's University, with over 800 years, is one of the oldest of Europe. Culturally the region is very rich in ancient traditions that persist till today.
Actually we celebrate the 185th year of existence. With a total of about nine hundred students, eighteen foreigners from several countries of Europe Africa and America. Our school is mostly directed to those who wish to follow higher education, most of them are science students. However, it also hosts one professional course. The school has a Students' Association which is very dynamic and concerned with everyone's success, always supporting, and being part of the activities proposed by teachers.

Factual Description:
A letter can change someone's life.
That's the premise of Write for Rights, Amnesty's global letter-writing campaign.
Every December, Amnesty supporters across the globe will write millions of letters for those whose basic human rights are being attacked.

Activities carried out:
Every year 4 situations are proposed by the NGO International Amnesty.
In the School Library information board cases targeted in the "Write for Rights" are published as well as the letters that were already prepared and sent to the school. Thus, students, teachers and staff are invited to participate in the Marathon by signing the letters. Alternatively, people can sign the cases through the site.

Assessment and lesson learnt:
Call attention to these cases, which may result in an improvement conditions of persons and communities at risk. Every year, real change happens because of your letters and actions. People wrongfully imprisoned are released. Torturers are brought to justice and people in prison are treated more humanely.