Human Rights and Intercultural Issues in Partners' Countries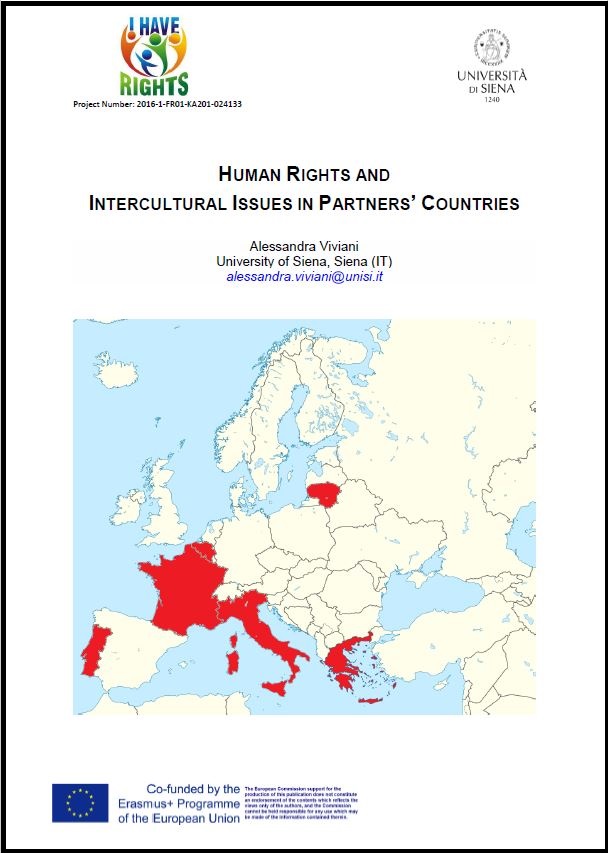 The 6 countries forming the IHR Partnership cover a wide geographical area in Europe, each of them with its own historical, political and socio-economic background, but they definitely share the same challenges as far as recent migration issues are concerned. In such a context IHR is focusing on giving its contribution towards making schools places where diversity is respected and the integration of foreign and migrant students is facilitated. The IHR survey represents the starting point of this ambitious process.
The students' questionnaire shows that in the first 2 years of upper secondary school more typologies of students are present (i.e. national, newly and recently arrived migrants, second generation migrants). Thus (although with some differences between partner countries) multicultural environment is today a firmly established reality. Most of the students show a certain degree of open mindedness when answering to questions related to multicultural issues, in particular they declare to be ready to consider "diversity" not necessarily as a negative concept. Nevertheless this positive result is in clear contrast with the high percentage of respondents indicating schools as places where episodes of violence, discrimination, etc. are more likely to happen. Moreover in all countries large portions of students have been involved in discrimination or violence episodes. Plus they consider the language used at school with teacher "formal-neutral", which in our opinion describes a situation of perceived "distance" between the students and their teachers.
Show more...
There is therefore quite a contradiction between what students "feel" about diversity and what the "do" when at school. This contradiction needs to be tackled and the positive attitude needs to be better exploited during class hours. It is symptomatic that many students do not discuss discrimination related issues in class and do not receive any human rights education at school, nor they are aware of themselves as "rights holders". In particular a large portion of student declares not to have any notion on the content of the UN Convention on the Rights of the Child. This negative result is further reinforced by the fact that teachers consider that "human rights" are not always relevant in the educational process, and are to be confined in certain areas (humanities and social studies): "human rights education" are considered as "notions" to be transferred rather than tools to enhance awareness and citizenship competences. In the questionnaires, teachers are themselves aware of the need of improving their intercultural skills, so that their work can have a better impact on multicultural classes.
The lesson learnt by the Best Practices collected shows that a variety of projects can be carried out with good results without a lot of resources. They also demonstrate the usefulness of projects involving various stakeholders such as local authorities and civil society organizations. At the same time, many of the selected best practices were based on non-traditional teaching methods such as role playing, use of media and activities carried out outside school rooms. At the same time these best practices are not so well spread and lack a systematic approach, also due the t fact that national and governmental policies on these issues seem rather vague. To fill this gap is the goal of IHR activities, in particular throughout the definition of Teachers' Guidelines.