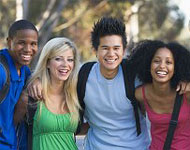 Factual background related to the challenges encountered by secondary school teachers in managing multicultural classes.
Factual Background

Chapter 2: Diversity in the Classrooms (Results of IHR Survey)
2.3. Diversity in the Eyes of the Students
Because of the very nature of the questions (which are mostly close-ended), it is impossible to know exactly how students feel about diversity. Yet, some clear trends emerge and the results tend to be consistent throughout the partner countries.

The survey reveals that a large majority of students are exposed to diversity both in and out of the classroom. Over three quarters of them currently have classmates born outside of their country of residence, and less than 10% have never had any. Most of them report they spend at least some of their free time with people from other countries, mostly among their circle of friends. In all cases, responders usually claim they get on well with them. Students also say they mostly feel surrounded by friends in their class and feel free to express themselves and to dress how they like at school. On the internet, many have been exposed to racist posts on social networks (except in Greece), but few actively check racist or anti-racist websites, and they do not tend to discuss the matter on the internet.

Overall, the replies let us conclude the responders are open-minded and welcoming of other cultures. Most of them claim they are curious about other countries, see diversity as an opportunity rather than a threat, do not mind seeing people wearing traditional outfits (a subject which is controversial among adults), consider their teachers' nationality is irrelevant and would not mind having teachers of foreign origin. Asked whether the presence of refugees and migrants requires more control by the police, replies are mixed, with no large consensus, the scale tipping toward "agree" or "disagree" depending on the country.

These positive results are mitigated by others, as students believe school is the likeliest place where they could suffer from violence and abuse, and up to 40% of them report to have witnessed episodes of racism during the school year (involvement in those acts tends to remain below 10%). When they witness violence, racism or bullying, they prefer to talk about it to their friends, classmates or family than to teachers. Racism is apparently not often addressed in some countries, and intercultural projects are also rare. Students have an egalitarian view of rights, but they do not always know about the UN Convention on the Rights of Children (Greece and Portugal fare best with over 70%), and when they do, television is the primary source of information (except in Greece). This shows more efforts could be made in schools to address diversity and children's rights.
Online Resources