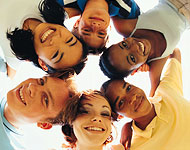 Improving teachers' skills in dealing with multicultural environments.
Responsibilities of Teachers in a Multicultural Environment

Chapter 1 – Intercultural Competences
1.3 Reasons and Meaning of Developing Intercultural Competences
Intercultural competence has been increasingly getting more attention in the 21st century education. Intercultural competence refers to the ability to understand cultures, including your own, and use this understanding to communicate with people from other cultures successfully. Several key elements of intercultural communication skills such as open mindedness, high tolerance of ambiguity, cultural empathy needed to build successful communication among global societies. There are many aspects needed to help teachers identify their students' strength and weaknesses for the effectiveness and adaptability of the cross-cultural in the intercultural communication.
Detection of the own ethnocentrism
Dealing with things that appear strange
Laying the bases for tolerance
Accepting the ethnic differences
Talking about racism
Stressing things in common
Encouraging solidarity
Training of reasonable conflict-solving-techniques - dealing with cultural conflicts and cultural relativism
Getting aware of the possibility to learn from each other and to enrich the life through the cultural contact
Getting rid of frontiers by understanding the global responsibility of everybody.
Important to note, that gaining intercultural competence is not a one-way-process, but an interactive development, that requires both the ability to stress the common aspects of human life and the will to solve conflicts that emerge from the differences between people of different cultural background. Intercultural competence is one of the main skills that students need to operate effectively in the information society. We can state that individual intercultural competence is the result of the development of interpersonal skills that arise from the following: the motivation to communicate effectively with someone from a different culture; being prepared to learn the skills needed for effective communication; the ability to put this knowledge into use. Very often, some of the individual intercultural competence is gained by attending a language-course designed to give information on cultural and especially behavioural aspects of day-to-day-life in the host country. For migrants and refugees also, intercultural competence is indispensable for integration into the society.
Online Resources
Developing the Intercultural competence through Education This article presents the core of understanding the intercultural competence in presenting main the main principles of the Council of Europe. Moreover, the paper highlights the significance of intercultural competence and presents the methods how develop it in the real way.
Methodology for development of intercultural competence. This paper presents the achieved results of the partner team (Italy, Germany, Lithuania, Estonia, Finland ) within the project "Development of intercultural competence of students and trainers in EU VET institutions" in 2013.This methodological material also is useful for secondary school teachers whose can adopt the methods and best practice in the school level.