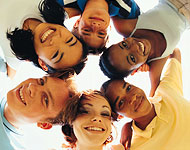 Improving teachers' skills in dealing with multicultural environments.
Responsibilities of Teachers in a Multicultural Environment

Chapter 2 – Knowledge as the first step for Intercultural Competences
2.2 Discrimination vs Inclusiveness
When debating education, it is crucial to emphasize the importance of acknowledging cultural diversity and the need to challenge the prejudices linked to determinants of gender, race, religion, disability and cultural diversity, among others, which, ultimately lead to discrimination. It is, therefore, very pertinent to develop the notion of interculturality within multicultural education systems, since it is important to seek for alternatives that question ethnocentric curricula and homogenizing practices within the classroom. Accordingly, it is important to prepare educators/learners to act in increasingly multicultural societies. Individual and social diversity should be celebrated and valued through an intercultural dialogue – we should educate in and for interculturality. As underlined by the UNESCO Guidelines on Intercultural Education, "in a world experiencing rapid change, and where cultural, political, economic and social upheaval challenges traditional ways of life, education has a major role to play in promoting social cohesion and peaceful coexistence". Thus, it is essential to develop curricula/programmes, projects, activities within the schools, and, more particularly within the classroom to encourage an intercultural dialogue. Education, and in particular, intercultural education, has a significant impact on inclusiveness as a path to fight discrimination. However, the right to education does not suggest, automatically, inclusion. The movement "Education for All: Meeting our Collective Commitments" (World Education Forum, 2000) is particularly important to the concept of inclusive education since the term 'inclusive' was used at Dakar, highlighting the need to "formulate inclusive education policies and to design diversified curricula and education delivery systems in order to serve the population excluded for reasons of gender, language, culture or individual differences".

Finally, the idea of inclusiveness aims at allowing students to belong to an educational environment which values each individuality, i.e., inclusiveness does not presupposes to erase the differences. The difference exists, and this diversity is an added value, a recognized opportunity to development and growth. It is, therefore, responsibility of each school to develop solutions to deal with diversity and foster respect for difference.
Online Resources