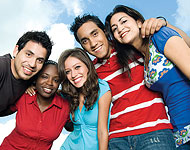 Acquisition of intercultural competences based on understanding human rights and non-discrimination values
Definition of Skills Required by Teachers
to Become Agents of Change in Inclusive Schools

Chapter 1 – Definitions and Models of Intercultural Competences
1.3 Deardorff's Model of Intercultural Competence
In this section Deardorff's model of intercultural competence will be presented. The choice of Deardorff's model depends on the number of citations that the author received by other scholars writing on the same theme. A search in Google Scholar on the author's 2006 article entitled "Identification and assessment of intercultural competence as a student outcome of internationalization" revealed that it was cited in 1490 works. Deardorff's model is also "the first attempt to reach a shared definition among experts of intercultural competence" (Baiutti, 2016). In 2006 the author defined intercultural competence as "the ability to communicate effectively in intercultural situations based on one's intercultural knowledge, skills, and attitudes" (pp. 247-248). Moreover, she develops two graphic representations of intercultural competence: the pyramid model and the process model.
Both models present attitudes, knowledge and abilities that together produce internal outcomes like adaptability and flexibility but also external outcomes that allow individuals to communicate and behave effectively and appropriately in intercultural situations. Baiutti (2016) states that Deardorff's models have two main characteristics. The pyramid is a graphic representation of the fact that the concept of intercultural competence is built on personal attitudes, often considered less than knowledge or skills in other scholars' conceptualizations. The second model represents a continuous process, a lifelong learning competence.
Online Resources
Darla K Deardorff (2009), The SAGE handbook of intercultural competence The SAGE Handbook of Intercultural Competence brings together in one volume the leading experts and scholars from a variety of fields (e.g., education, communication, psychology, social work, health care, conflict studies, etc.) and from around the world who work in the field of intercultural competence.