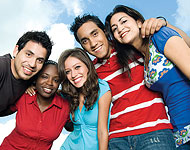 Acquisition of intercultural competences based on understanding human rights and non-discrimination values
Definition of Skills Required by Teachers
to Become Agents of Change in Inclusive Schools

Chapter 2 – Teaching and Learning Methods to Promote Intercultural Competences in the Classroom
2.3 Knowledge, Skills and Attitudes for Teachers to Develop Intercultural Competence
This section is devoted to the presentation of knowledge, skills, and attitudes that teachers need to develop. These skills will help teachers to become agents of change in their classrooms by fostering the right mix of communication, cooperation, flexibility, creativity and critical thinking. Through an analysis of the best practices collected in the first phase of the project "I Have Rights", it is possible to recognize the knowledge, skills and attitudes suggested by Zadra (2004) in her work. These can be divided into three different levels:
Cognitive level
Development of a dynamic vision of the cultures that evolve, change each other and intertwine in people;
Ability to transit from an ethnocentric perspective to an ethno-relative one;
Ability to deconstruct one's own prejudices and one's own "cultural frames";
Ability to detect apparently irrelevant and annoying details as signals that something in the prior knowledge is to be reviewed;
Ability to recognize similarities and differences in situations;
Ability to give multiple interpretations and meanings to the same data or fact.
Affective level
Ability to be involved or indifferent, and ability "to read" one's own emotions;
Knowledge and acceptance of oneself and one's limitations;
Ability to recall one's own history;
Opening and readiness to discover new experiences and diversity rather than fear of change;
Understanding of diversity in ourselves, legitimation of the fact that we are or have been at some point foreigners to ourselves;
Ability not to take oneself too seriously.
Relational level
Ability to respect and be open towards others and their rights;
Empathy;
Active listening that meets the other's points of view;
Ability to suspend judgment, and trust in the reasons of others even before having understood them;
Dialogic ability;
Ability to see misunderstandings and conflicts as opportunities;
Ability to solve conflicts creatively, e.g. by creating common ground and new solutions.
Being aware of these skills will help teachers transform the class into a welcoming community, to recognize diversities, to practise listening to others, manage conflict and promote participation.
Likewise, the UNESCO Framework of Intercultural Competences is an equally important tool for achieving these aims. The proposed operational plan by UNESCO specifically refers to clarifying, teaching, promoting, enacting and supporting intercultural competences by proposing practical means of integrating these competences in everyday practice.
Online Resources