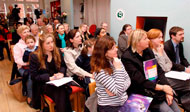 This section is meant to facilitate the sharing of information among partners as far as the dissemination events carried out are concerned.

A description of the event, the number of people participating and the evaluation of the event are available for each dissemination event.
Back to the Dissemination List
click here for the printable version

Partners' Institution:
University of Siena

Name of the person involved in the event:
Alessandra Viviani

Date of the event:
17 February 2017 - 17 February 2017

Type of Dissemination event:
Conference or Fair

Target group:
Public Bodies
Researchers
Experts
Universities Association

Number of people reached by event:
50

Held in:
Grosseto (Italy)

Description of Dissemination Event:
Alessandra Viviani's presentation of IHR during an international event within the framework of Europe for Citizens project EUROM - 'European Memories of Borders', http://europeanmemories.net/ The conference in Grosseto maily dealt with the topic of «Exiles and migrations between the 20th & 21st century».

Outcomes and Results:
IHR topics and aims have been throughly presented and discussed in a context that stressed the impact of mass migrations on local and national communities all over Europe.

Supporting Documents: