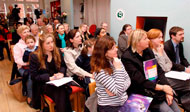 This section is meant to facilitate the sharing of information among partners as far as the dissemination events carried out are concerned.

A description of the event, the number of people participating and the evaluation of the event are available for each dissemination event.
Back to the Dissemination List
click here for the printable version

Partners' Institution:
Aristotle University

Name of the person involved in the event:
Eleni Hodolidou

Date of the event:
22 February 2017 - 01 March 2017

Type of Dissemination event:
Informative Mailing

Target group:
Public Bodies

Number of people reached by event:
1

Held in:
Athens-Thessaloniki (Greece)

Description of Dissemination Event:
Prof Eleni Hodolidou informed Prof Ioannis Pantis, General Secretary of the Ministry for Education and Religious Affairs, about the project aiming at acquiring a general permission to have access to schools in order to distribute the questionnaires to students.

Outcomes and Results:
Prof Pantis showed interest and promised to help with the permission.

Supporting Documents: