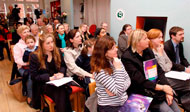 This section is meant to facilitate the sharing of information among partners as far as the dissemination events carried out are concerned.

A description of the event, the number of people participating and the evaluation of the event are available for each dissemination event.
Back to the Dissemination List
click here for the printable version

Partners' Institution:
Klaipėda University

Name of the person involved in the event:
Giedre Straksiene, Ilona Klaniene

Date of the event:
11 October 2017 - 11 October 2017

Type of Dissemination event:
National Meeting

Target group:
Researchers
Schools
Teachers

Number of people reached by event:
15

Held in:
Klaipeda (Lithuania)

Description of Dissemination Event:
Annual Meeting of Researchers, School Teachers & Staff, held in Klaipeda University. Giedre Straksiene presented the IHR project results and Ilona Klaniene presented the speech " Inclusive Education and Challenges". Moreover, the lithuaninan teachers who participated at the courses in Siena University shared their practices and experiences.

Outcomes and Results:
The event offered the chance to disseminate IHR results and the information/material from the courses "Expert in Multicultural School Environment" held September 25th -29th, 2017 in Siena, to researchers, school teachers and staff not directly involved in the project.

Supporting Documents: