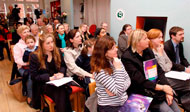 This section is meant to facilitate the sharing of information among partners as far as the dissemination events carried out are concerned.

A description of the event, the number of people participating and the evaluation of the event are available for each dissemination event.
Back to the Dissemination List
click here for the printable version

Partners' Institution:
Klaipėda University

Name of the person involved in the event:
Danguolė Misiukonienė

Date of the event:
12 October 2017 - 30 November 2017

Type of Dissemination event:
Article on website

Target group:
General Public
Public Bodies
Students

Held in:
Klaipėda (Lithuania)

Description of Dissemination Event:
Refugees, emigrants, Africa, Asia - the words and names that are heard, but they look distant, unfamiliar to the Lithuanians ... People who find themselves in a foreign country due to various misfortunes have brought in a different culture, system of values, and the concept of life. Such an experience in 2017 October 11 Participants of the project "I have rights" participated in Klaipėda University - Klaipėda School Teachers. They participated in training at the University of Siena (Italy) and have met people who have been working with immigrants for many years.

Supporting Documents: