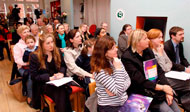 This section is meant to facilitate the sharing of information among partners as far as the dissemination events carried out are concerned.

A description of the event, the number of people participating and the evaluation of the event are available for each dissemination event.
Back to the Dissemination List
click here for the printable version

Partners' Institution:
INFOREF

Name of the person involved in the event:
Zlata Selak

Date of the event:
19 October 2017 - 20 October 2017

Type of Dissemination event:
Transnational Meetings

Target group:
Training Agencies
Universities Association

Number of people reached by event:
18

Held in:
Coimbra (Portugal)

Description of Dissemination Event:
SimuCarePro is a European project aiming to create simulation scenarios in health for learners and professionals in medicine. The project is promoted by Haute Ecole Libre Mosane - HELMo-paramédical and coordinated by Inforef. The other partners are: Institut supérieur de soins infirmiers Galilée - ISSIG (Belgium), Université de Paris Descartes - ILUMENS (France), Escola Superior de Enfermagem de COIMBRA - ESENFC (Portugal) and Universitatea de Medicina si Farmacie "Iuliu Hatieganu" Cluj-Napoca (Romania). During the fourth meeting in Coimbra, Inforef described the projects it participates in, including "I Have Rights". http://simucarepro.eu/

Outcomes and Results:
Partners from four countries are informed about the project.

Supporting Documents: