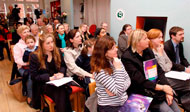 This section is meant to facilitate the sharing of information among partners as far as the dissemination events carried out are concerned.

A description of the event, the number of people participating and the evaluation of the event are available for each dissemination event.
Back to the Dissemination List
click here for the printable version

Partners' Institution:
Aristotle University

Name of the person involved in the event:
Stefanos Katsoulis

Date of the event:
17 October 2017 - 17 October 2017

Type of Dissemination event:
Information & discussion

Target group:
Researchers
Experts

Number of people reached by event:
8

Held in:
Brussels (Belgium)

Description of Dissemination Event:
Information about the goals and expected outcomes of the IHR project at the group of political advisors of the Greek delegation of the GUE/NGL (Gauche Unitaire Europeene/ Nordic Green Left). A discussion followed.

Outcomes and Results:
During the discussion members of the the Greek delegation of the GUE/NGL have asked for further updates on the IHR project, especially those dealing with the education issues.

Supporting Documents: