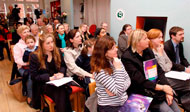 This section is meant to facilitate the sharing of information among partners as far as the dissemination events carried out are concerned.

A description of the event, the number of people participating and the evaluation of the event are available for each dissemination event.
Back to the Dissemination List
click here for the printable version

Partners' Institution:
RENASUP

Name of the person involved in the event:
Elise Dosnon, Alessandra Ruju

Date of the event:
07 February 2018

Type of Dissemination event:
National Meeting

Target group:
Schools

Number of people reached by event:
200

Held in:
Paris (France)

Description of Dissemination Event:
The event was a national meeting with headteachers all over France. The aim of the meeting was to talk about all the reforms that are going to take place in France in the next years in the education field. Elise Dosnon (civic service) and Alessandra Ruju (intern) had a stand in the hall of the meeting place, presenting the European projects RenaSup is working on.

Outcomes and Results:
Some headteachers came to talk about the project and found the contents and the theme very interesting.

Supporting Documents: