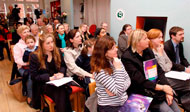 This section is meant to facilitate the sharing of information among partners as far as the dissemination events carried out are concerned.

A description of the event, the number of people participating and the evaluation of the event are available for each dissemination event.
Back to the Dissemination List
click here for the printable version

Partners' Institution:
Klaipėda University

Name of the person involved in the event:
Ilona Klanienė

Date of the event:
12 April 2018 - 12 April 2018

Type of Dissemination event:
Conference or Fair

Target group:
Schools
Students
Teachers
Experts

Number of people reached by event:
200

Held in:
Klaipėda (Lithuania)

Description of Dissemination Event:
The project was presented at the Continuing Fifth Student Scientific Conference "Tolerant School - A Secure Society" organized by the HUMF Department of Pedagogy Tolerance Education Research Laboratories and Partners (Klaipeda Municipality Administration Child Welfare Commission and Foundation "Center for Spiritual Assistance to Youth") at Klaipėda University. A total of 190 participants (pupils, teachers) from all over Lithuania were received: Klaipėda city and district, Kretinga, Mažeikiai, Telšiai, Šilutė, Vilnius and others. The conference also attended the lecturers of Klaipėda University, employees of the Children's Rights Protection Service, Klaipėda city municipality. Chairwoman of the Child Welfare Commission, representatives of non-governmental organizations, graduates of the KU Social Pedagogy Program, graduates, etc.

Supporting Documents: