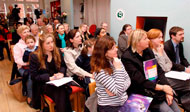 This section is meant to facilitate the sharing of information among partners as far as the dissemination events carried out are concerned.

A description of the event, the number of people participating and the evaluation of the event are available for each dissemination event.
Back to the Dissemination List
click here for the printable version

Partners' Institution:
Aristotle University

Name of the person involved in the event:
Lina Papadopoulou, Eleni Hodolidou

Date of the event:
29 May 2018

Type of Dissemination event:
Video on local TV Channel and Youtube

Target group:
General Public

Number of people reached by event:
Unknown

Held in:
Thessaloniki (Greece)

Description of Dissemination Event:
Video reportage on the Municipal TV channel (TV100) presenting the two-day national multiplier event organized by Aristotle University of Thessaloniki in the Hall of the Municipal Council of the Municipality of Thessaloniki (25-26 May, 2018). Reportage: Iason Batios Camera: Spyros Kopanos Editing: Panos Tsakiris Interviewed: Giannis Boutaris (Mayor of Thessaloniki), Lina Papadopoulou (Associate Professor, School of Law, Aristotle University) Eleni Hondolidou (Associate Professor of Philosophy and Pedagogy, Aristotle University) LINK: https://www.youtube.com/watch?v=11xJODCtpfA

Outcomes and Results:
Dissemination and information on the IHR project through video reportage covering the national multiplier event (25-26 May 2018).

Supporting Documents: