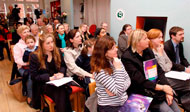 This section is meant to facilitate the sharing of information among partners as far as the dissemination events carried out are concerned.

A description of the event, the number of people participating and the evaluation of the event are available for each dissemination event.
Back to the Dissemination List
click here for the printable version

Partners' Institution:
Human Rights Centre

Name of the person involved in the event:
HRC team

Date of the event:
28 May 2018 - 28 May 2018

Type of Dissemination event:
Facebook post

Target group:
Enterprises
General Public
Researchers
Training Agencies
Schools
Students
Teachers
Experts
Universities Association

Number of people reached by event:
1500

Held in:
Coimbra (Portugal)

Description of Dissemination Event:
Publication and invitation to the portuguese multiplier event "Human Rights in Schools" to be held on 9th June at the Martim de Freitas school, in Coimbra. This event aims at reinforcing teachers' competences in the area of Human Rights Education and Multiculturalism at school.

Outcomes and Results:
School directors, teachers and others were publicly invited to participate in this event.

Supporting Documents: