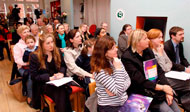 This section is meant to facilitate the sharing of information among partners as far as the dissemination events carried out are concerned.

A description of the event, the number of people participating and the evaluation of the event are available for each dissemination event.
Back to the Dissemination List
click here for the printable version

Partners' Institution:
University of Siena

Name of the person involved in the event:
Alessandra Viviani

Date of the event:
18 November 2016 - 18 November 2016

Type of Dissemination event:
National Meeting

Target group:
Public Bodies
Researchers
Training Agencies
Schools
Teachers
Experts
Universities Association

Number of people reached by event:
15

Held in:
Siena (Italy)

Description of Dissemination Event:
The aim of the seminar was to: - facilitate the dialogue amongst educators on topics and projects dealing with intercultural and linguistic issues; - disseminate good practices on intercultural education. In this context Alessandra Viviani presented the attendees with the aims, target groups and expected results of I Have Rights and circulated the project brochure (Italian version). At the beginning of her presentation, Alessandra Viviani contextualised I Have Rights in the Erasmus+ Programme.

Outcomes and Results:
Alessandra Viviani's presentation was well received by the attendees and some of them asked to be kept updated of I Have Rights implementation and their e-mail addresses were collected to be included in the I Have Right mailing list UniSi team created for the project dissemination.

Supporting Documents: