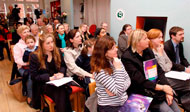 This section is meant to facilitate the sharing of information among partners as far as the dissemination events carried out are concerned.

A description of the event, the number of people participating and the evaluation of the event are available for each dissemination event.
Back to the Dissemination List
click here for the printable version

Partners' Institution:
INFOREF

Name of the person involved in the event:
Martine Prignon, Julien Keutgen and Anna Beltrami

Date of the event:
10 January 2017

Type of Dissemination event:
National Meeting

Target group:
Teachers

Number of people reached by event:
1

Held in:
Liège (Belgium)

Description of Dissemination Event:
Meeting with a teacher from "Athéne Léonie de Waha" in Liège to try to involve the school in IHR. This school uses Freinet pedagogy, students work in projects. The teacher received all information about the project and copies of the questionnaires and case study form.

Outcomes and Results:
The teacher informed us the headteacher agreed to participate. The questionnaires will be circulated and Inforef will participate in an activity at the school.

Supporting Documents: