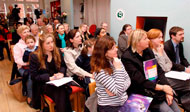 This section is meant to facilitate the sharing of information among partners as far as the dissemination events carried out are concerned.

A description of the event, the number of people participating and the evaluation of the event are available for each dissemination event.
Back to the Dissemination List
click here for the printable version

Partners' Institution:
University of Siena

Name of the person involved in the event:
Alessandra Viviani - Simonetta Michelotti

Date of the event:
08 February 2017 - 08 February 2017

Type of Dissemination event:
face to face meeting

Target group:
Researchers
Schools
Teachers
Experts

Number of people reached by event:
2

Held in:
Siena (Italy)

Description of Dissemination Event:
Prof Alessandra Viviani (UniSi Team coordinator) invited Dr Lavinia Bracci and Dr Elena Cellai of Siena International School (http://www.internationalschoolofeurope.it/en/siena), member of the International Schools of Europe Network with a long standing experience in teaching multicultural classes. Prof. Viviani presented Dr Bracci & Dr Cellai with the project aims and in particular showed them the formats of both Students' and Teachers/Staff Questionnaires.

Outcomes and Results:
Dr Bracci & Dr Cellai showed their interest in the project and asked to be kept updated with the project implementation

Supporting Documents: