Associated Partners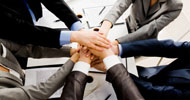 As a result of the exploitation activity a number of associated partners officially joined the project in order to contribute to the improvement of the project impact on their target groups and to ensure the project sustainability by continuing using the project deliverables in the next years.

The associate partners of the I Have Rights project are organizations interested in promoting the awareness of human rights at school. All associated partners share the project objectives and are willing to contribute to their achievement.

Institutions and organisations interested in becoming associated partners of the I Have Rights project can contact the national coordinators of the project.
Back to the Associated Partners
NAME OF THE ORGANISATION
Synadic : Organisation Professionnelle des chefs d'Etablissement de l'Enseignement Catholique
TYPE OF INSTITUTION
Association of Catholic schools Deans
ADDRESS
2/4 rue Chaintron, 92120 Montrouge
HOW THE ORGANISATION WILL CONTRIBUTE TO THE DISSEMINATION AND EXPLOITATION OF THE PROJECT RESULTS
The association will informe and engage with the member schools in order for them to beneficiate from the results of the project in their own practices.