Associated Partners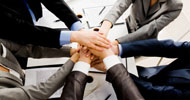 As a result of the exploitation activity a number of associated partners officially joined the project in order to contribute to the improvement of the project impact on their target groups and to ensure the project sustainability by continuing using the project deliverables in the next years.

The associate partners of the I Have Rights project are organizations interested in promoting the awareness of human rights at school. All associated partners share the project objectives and are willing to contribute to their achievement.

Institutions and organisations interested in becoming associated partners of the I Have Rights project can contact the national coordinators of the project.
Back to the Associated Partners
NAME OF THE ORGANISATION
Comité des Élèves Francophones asbl
TYPE OF INSTITUTION
Youth organisation
ADDRESS
Rue de la Borne 14 1080 Brussels
NAME OF CONTACT PERSON
Ikram Ben Addi
BRIEF DESCRIPTION OF THE ORGANISATION
Comité des Élèves Francophones (Committee of French-speaking students - CEF) is a youth organisation officially recognised by the French-speaking Community of Belgium since the 1st of January 2011.

CEF is the union of secondary school students, it brings them together to develop democracy and to defend and disseminate their rights through training, debates and actions that concern them.

CEF's actions are focussed on four axes:
- To act on education-related problems
- To increase students' role in their school
- To make students' opinion heard
- To open schools onto society
HOW THE ORGANISATION WILL CONTRIBUTE TO THE DISSEMINATION AND EXPLOITATION OF THE PROJECT RESULTS
CEF contributes to the dissemination and exploitation of the porject results, including dissemination various information about the project on its websites (
http://www.lecef.orf
), on its social networks (Facebook:
https://www.facebook.com/CEFasbl/
and Twitter: @CEFasbl) and on the website www.organisationsdejeunesse.be. CEF will also use the project results and activities with secondary school students.