Associated Partners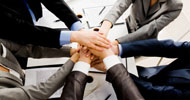 As a result of the exploitation activity a number of associated partners officially joined the project in order to contribute to the improvement of the project impact on their target groups and to ensure the project sustainability by continuing using the project deliverables in the next years.

The associate partners of the I Have Rights project are organizations interested in promoting the awareness of human rights at school. All associated partners share the project objectives and are willing to contribute to their achievement.

Institutions and organisations interested in becoming associated partners of the I Have Rights project can contact the national coordinators of the project.
Back to the Associated Partners
NAME OF THE ORGANISATION
VLTF (Western Lithuanian Parents Forum)
TYPE OF INSTITUTION
Parents association
ADDRESS
Rumpiškės g. 24B, Klaipeda
NAME OF CONTACT PERSON
Aušra Zarambienė
BRIEF DESCRIPTION OF THE ORGANISATION
VLTF is a
- n organization uniting the parents of Klaipėda and the whole Western Lithuania region. Main activities are:Activating parental communities and helping to establish associate local parental communities in Western Lithuania.
- Encouraging parent-teacher cooperation in all educational institutions of Western Lithuania;
- Cooperating with public and state institutions in Lithuania and abroad;
- Representing the interests of the learners and parents, protecting their rights in all institutions;
- Initiating and implementing projects for educational environment and process improvement;
- Disseminating information about possible directions of education, sharing good practice.
HOW THE ORGANISATION WILL CONTRIBUTE TO THE DISSEMINATION AND EXPLOITATION OF THE PROJECT RESULTS
VLTF will contribute to the dissemination and exploitation of the project results by publicizing the information in VLTF website, "Facebook" social network website and various events for parents and educators