Associated Partners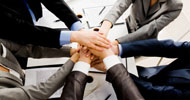 As a result of the exploitation activity a number of associated partners officially joined the project in order to contribute to the improvement of the project impact on their target groups and to ensure the project sustainability by continuing using the project deliverables in the next years.

The associate partners of the I Have Rights project are organizations interested in promoting the awareness of human rights at school. All associated partners share the project objectives and are willing to contribute to their achievement.

Institutions and organisations interested in becoming associated partners of the I Have Rights project can contact the national coordinators of the project.
Back to the Associated Partners
NAME OF THE ORGANISATION
Spiritual guidance center for youth (Dvasinės pagalbos jaunimui centras – DPJC)
TYPE OF INSTITUTION
Charity & support fund
ADDRESS
Darželio str.11, Klaipeda
NAME OF CONTACT PERSON
Danguole Leonora Misiukoniene
BRIEF DESCRIPTION OF THE ORGANISATION
The DPJC is a non-political, non-profit organization based on - a Christian outlook, a volunteer education and their activities; working with family members of risk groups. Here is the Children's Day Center, the Snowball program organizes preventive camps for teens, Big Brother Big Sister volunteers help children with emotional disorders, Parents Program volunteers provide complex family support.
HOW THE ORGANISATION WILL CONTRIBUTE TO THE DISSEMINATION AND EXPLOITATION OF THE PROJECT RESULTS
The activities of this project will be made public on the DPJC website at www.dpjc.lt and FB, during volunteer screenings, info days, ongoing training sessions and seminars.