Associated Partners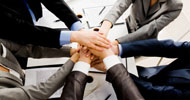 As a result of the exploitation activity a number of associated partners officially joined the project in order to contribute to the improvement of the project impact on their target groups and to ensure the project sustainability by continuing using the project deliverables in the next years.

The associate partners of the I Have Rights project are organizations interested in promoting the awareness of human rights at school. All associated partners share the project objectives and are willing to contribute to their achievement.

Institutions and organisations interested in becoming associated partners of the I Have Rights project can contact the national coordinators of the project.
Back to the Associated Partners
NAME OF THE ORGANISATION
Lithuanian Social Pedagogues Association
TYPE OF INSTITUTION
Association, NGO
ADDRESS
Studentų 39-321, Vilnius, LT-08106
NAME OF CONTACT PERSON
Auksė Petruškevičiūtė
BRIEF DESCRIPTION OF THE ORGANISATION
Lithuanian Social Pedagogues Association (LSPA) is NGO and was established in 2002.
The organization bring together politicians, practitioners, academics and students who are
occupied with social pedagogy and social education, who are working in the field of welfare of
children and families.
The purpose of LSPA is to emphasize and to promote the philosophy of social education and the
social education profession and to encourage networking among LSPA members and other
national and international networks. The members of this organization are members in different
Thematic Working Group in National and International level (Thematic working group on Early
school leaving by European Commission, 2011-2013).
LSPA organizes scientific and practical conferences, implements projects, training seminars
provides methodological literature.
HOW THE ORGANISATION WILL CONTRIBUTE TO THE DISSEMINATION AND EXPLOITATION OF THE PROJECT RESULTS
Information about the project will be promoted on the organization's website www.lspa.lt and "Facebook" social network website; it will be presented at meetings with members of the Association and during various conferences / events. The project's good experience will be used in the presence of working groups.