Associated Partners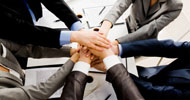 As a result of the exploitation activity a number of associated partners officially joined the project in order to contribute to the improvement of the project impact on their target groups and to ensure the project sustainability by continuing using the project deliverables in the next years.

The associate partners of the I Have Rights project are organizations interested in promoting the awareness of human rights at school. All associated partners share the project objectives and are willing to contribute to their achievement.

Institutions and organisations interested in becoming associated partners of the I Have Rights project can contact the national coordinators of the project.
Back to the Associated Partners
TYPE OF INSTITUTION
Youth Association
ADDRESS
Corso Vittorio Emanuele 494/D
WEB SITE
www.facebook.com/NoiatEurope
NAME OF CONTACT PERSON
Pietro Sabatino
BRIEF DESCRIPTION OF THE ORGANISATION
[email protected]
is a youth association founded in Napoli in 2012. The organization works mainly in the domains of service for youth (information platform and desk for orienteering youngsters in finding best job or training opportunities); European citizenship awareness (from 2013 the association is partner of Ceicc-Europe Direct Centre in Napoli managing info desk on European Mobility and the Ceicc-Library); Intercultural dialogue and migrant integration (from 2014 the association supports an Italian Language course for foreigners and organizes an intercultural laboratory based on non-formal methodologies called "Laboratorio Meticcio")
HOW THE ORGANISATION WILL CONTRIBUTE TO THE DISSEMINATION AND EXPLOITATION OF THE PROJECT RESULTS
[email protected]
association has developed during last years an important role on spreading information on job and training opportunities for youngsters, notably at local level (Napoli and Campania region). Currently, the organization manages Informagiovani Napoli web platforms (350k views per year);
[email protected]
fb profile (10k fans) and Ceicc-Europe Direct Fb and Twitter profile). Those "new media" channels will be useful for updating target groups, especially at local level (Napoli province and Campania region) about results and events developed within "I Have Rights" project.
Moreover
[email protected]
association is planning 2017 edition of its intercultural laboratory "Laboratoio Meticcio" whose results and methodologies can be spread and shared during meetings of the project.