Associated Partners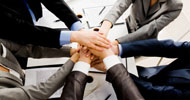 As a result of the exploitation activity a number of associated partners officially joined the project in order to contribute to the improvement of the project impact on their target groups and to ensure the project sustainability by continuing using the project deliverables in the next years.

The associate partners of the I Have Rights project are organizations interested in promoting the awareness of human rights at school. All associated partners share the project objectives and are willing to contribute to their achievement.

Institutions and organisations interested in becoming associated partners of the I Have Rights project can contact the national coordinators of the project.
Back to the Associated Partners
NAME OF THE ORGANISATION
Hellenic Observatory for Intercultural Education
TYPE OF INSTITUTION
Scientific Association
ADDRESS
c/o Dr Anastasia Kesidou, Aristotle University of Thessaloniki, Faculty of Philosophy, Department of Education, GR- 541 24 Thessaloniki
NAME OF CONTACT PERSON
Dr Anastasia Kesidou
BRIEF DESCRIPTION OF THE ORGANISATION
The Hellenic Observatory for Intercultural Education constitutes a collective effort of researchers, educators and educational administrators across Greece. It is a scientific association, which was established at the initiative of a research group of the Aristotle University of Thessaloniki and runs since August 2008. It focuses on the cultural pluralism of the Greek and the European societies and aspires to contribute to the strengthening of intercultural dialogue, the expansion of research in the field of intercultural education and the introduction and support of innovations at school.
HOW THE ORGANISATION WILL CONTRIBUTE TO THE DISSEMINATION AND EXPLOITATION OF THE PROJECT RESULTS
The Observatory aims at the promotion of academic research, the recording of good practices and their dissemination in schools, as well as the formation of school networks, so that they can exchange experiences, apply innovations and improve their educational work. In addition, it promotes the communication of educators, administrators and community members and organizes special events, conferences and seminars in the field of intercultural education. The Observatory, with its 174 members across Greece, has formed a wide network of academics and practitioners, to whom the project results and good practices will be disseminated, ensuring that they can be exploited both academically and in school practice. In the last two years (2015-2017) the Observatory has collaborated closely with primary and secondary teachers in the field of human rights education and the issue of fostering democracy in schools. Thus, it also comprises a special network of teachers who prioritize the issue of human and children's rights in schooling, to whom the experience gained by the project will be valuable.