Associated Partners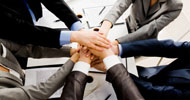 As a result of the exploitation activity a number of associated partners officially joined the project in order to contribute to the improvement of the project impact on their target groups and to ensure the project sustainability by continuing using the project deliverables in the next years.

The associate partners of the I Have Rights project are organizations interested in promoting the awareness of human rights at school. All associated partners share the project objectives and are willing to contribute to their achievement.

Institutions and organisations interested in becoming associated partners of the I Have Rights project can contact the national coordinators of the project.
Back to the Associated Partners
NAME OF THE ORGANISATION
Rainbow Families of Greece (Oikogeneies Ouranio Tokso)
TYPE OF INSTITUTION
Non-governmental organization (NGO)
ADDRESS
Charilaou Trikoupi 45, Athens
NAME OF CONTACT PERSON
Kelly Ousantzopoulou
BRIEF DESCRIPTION OF THE ORGANISATION
Oikogeneies Ouranio Tokso (Rainbow Families of Greece) is an NGO focusing on LGBTQI+ parents and their families as well as on parents of LGBTQI+ children. We are a supporting member of NELFA (Network of European LGBTIQ* Families Associations) and maintain contact with other LGBTQI+ organisations in Greece and abroad.

The organisation's core goals are mobilisation, representation, dissemination of information, support, empowerment and advocacy of Rainbow Families in Greece.

Some of our activities involve the following:
- We hold monthly support meetings in collaboration with therapists, legal advisers, social scientists and other experts, with a focus both on parenting as a non-heterosexual as well as on being a parent to non-heterosexual children (our 'Proud parents' group).
- We have organized two conferences and published three children's books.
- We formally participate as an organization in the Athens Pride Festival every year, and organize an annual celebration for the IFED (International Family Equality Day) in Greece.
HOW THE ORGANISATION WILL CONTRIBUTE TO THE DISSEMINATION AND EXPLOITATION OF THE PROJECT RESULTS
As an organisation we are committed to fighting discrimination and promoting human rights. Through our participation in the 'I have rights' project we hope to exchange experience and ideas and gain new, valuable insights. The project results will be disseminated and promoted through our mobilisation and activities, which involve –among other things– the publication of informative material/guides, the education of educators, the organisation of conferences, and the participation in conferences.