Associated Partners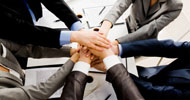 As a result of the exploitation activity a number of associated partners officially joined the project in order to contribute to the improvement of the project impact on their target groups and to ensure the project sustainability by continuing using the project deliverables in the next years.

The associate partners of the I Have Rights project are organizations interested in promoting the awareness of human rights at school. All associated partners share the project objectives and are willing to contribute to their achievement.

Institutions and organisations interested in becoming associated partners of the I Have Rights project can contact the national coordinators of the project.
Back to the Associated Partners
NAME OF THE ORGANISATION
Klaipeda Queen's Luize Youth Centre
TYPE OF INSTITUTION
School of additional (informal) training
NAME OF CONTACT PERSON
Kornelija Stasiuliene – director assistant
BRIEF DESCRIPTION OF THE ORGANISATION
Youth centre organizers after school activities for children and youngsters. Activities include theatre, dance, music, fine art, etc. Also the institution promotes creativity of the young people such as exhibitions, performances, cultural changes between youngsters from European countries.
HOW THE ORGANISATION WILL CONTRIBUTE TO THE DISSEMINATION AND EXPLOITATION OF THE PROJECT RESULTS
The progress and process of the project would be spread at the community – among the teachers and youngsters, Also the results would be presented to the citizens by means of Media, (on website) and discussions.