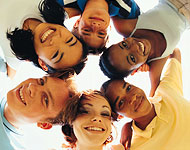 Improving teachers' skills in dealing with multicultural environments.
Responsibilities of Teachers in a Multicultural Environment

Chapter 1 – Intercultural Competences
1.1 Definitions of Cultural Competence
A global culture of human rights requires competence in holding intercultural dialogues. In addition, it is through intercultural dialogue that members of different groups learn about one another. Human rights serve as an obvious topic for those holding intercultural dialogues, and so form part of a program designed to lead to a culture of peace, since "the culture of peace is above all a culture of peace-building, conflict prevention and resolution, education for non-violence, tolerance, acceptance, mutual respect, dialogue and reconciliation" (UNESCO, 2011a).

Schools are a central place to nurture such skills and abilities, as was underlined by UNESCO in Guidelines on Intercultural Education (UNESCO, 2006b). Nevertheless, given their relevance for social and political life, the scope of intercultural competences is much wider than formal education. Intercultural competence includes a set of variety skills that demonstrate someone is capable of effective communication and relationship building within another culture.

Intercultural competences are abilities to adeptly navigate complex environments marked by a growing diversity of peoples, cultures and lifestyles, in other terms, abilities to perform "effectively and appropriately when interacting with others who are linguistically and culturally different from oneself" (Fantini & Tirmizi, 2006).

Competence includes cognitive (knowledge), functional (application of knowledge), personal (behavior) and ethical (principles guiding behavior) components, thus the capacity to know must be matched to the capacity to speak and act appropriately in context; ethics and consideration of human rights influence both speech and actions.

Intercultural describes what occurs when members of two or more different cultural groups (of whatever size, at whatever level) interact or influence one another in some fashion, whether in person or through various mediated forms.
Online Resources