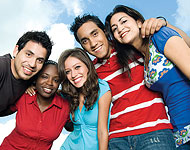 Acquisition of intercultural competences based on understanding human rights and non-discrimination values
Definition of Skills Required by Teachers
to Become Agents of Change in Inclusive Schools

Chapter 2 – Teaching and Learning Methods to Promote Intercultural Competences in the Classroom
2.2 Methods to be Implemented in the Classroom to Promote the Acquisition of Intercultural Competence Through Active Learning
In its report "Developing intercultural competence through education" the European Council presents a chapter titled "How to develop intercultural competence through education". Principles of planning for the promotion of intercultural competence include (a) experience, (b) comparison, (c) analysis, (d) reflection and (e) action.
Through experience students develop respect, curiosity and openness, discover the nature of new cultures and how different people act and communicate. Experience can be real or imagined and provided using examples, games, old and new media and role-play. Experience allows one to make comparisons and analyze one's own assumptions.
The second principle for promoting intercultural education is comparison. Teachers need to be aware of learners' wrong thoughts that confuse being 'different' or 'unfamiliar' with being 'uncivilized'. Learners need to compare similarities and differences in a non-judgmental manner and understand that people with different cultures can think to them as unfamiliar.
The analysis of a situation can lead students to understand the explanations behind practices, values and beliefs put in practice by people of different cultures. Inquiry-based methods, audio and video resources may help teachers with this.
Reflection, the development of critical awareness and understanding are necessary in a program planned to develop intercultural competence. Methods to facilitate students' ability to reflect are the discussion of experiences, diaries to keep track of learning, writing activities, drawing, and sharing what they have learnt.
Finally, students' action and engagement are important when realized through intercultural dialogue or cooperative activities. Taking action is a way to improve responsibility and respect in the social and physical environment.
In Zadra's work "Diversity for kids" (2004) and in the European Council's work "Developing Intercultural competence through education" (2014), different methods and activities are suggested for use in the classroom with students. We agreed with Zadra (2004) that all these methods could be grouped into four broad categories:
Deconstructive methods to offer students a new point of view (facilitate students in finding new information, put in practice negotiation among students, develop students' ability to observe and listen)
Experiential and game-based methods (role play, cooperative games, simulations, and problem-solving activities)
Narrative methods based on stories to create and recreate, discover and re-discover. (use of storytelling in class, writing labs, video and audio production)
Expressive methods that engage the deep dimensions of human beings (Theatre, painting, music, dance, photography and labs to express emotion)
Online Resources